"Pioneering Green Technologies"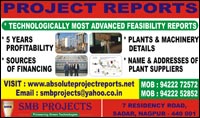 SMB Environmental Projects (P) Ltd. is a professional Project Consultancy Group, with vast experience in the industry. We are engaged in providing most practical Project Consultancy in the areas of Environmental Friendly - Chemical, Process, Agro-based, Food Processing, Spice Manufacturing and Packaging Consultancy, Silicone Polymer Insulator Making Consultancy, Renewable Energy & Power, Engineering, Automobiles, IT and ITES, with special emphasis on " Zero impact on environment ". Our Project Consultancy covers various stages of project implementation like :
Preparation of a techno-economic feasibility study / project report / schedule
Detailed engineering, plant design, environmental impact assessment and execution drawings
Assistance in acquisition of land, power and procurement of licenses / NOCs
Tendering specifications, ordering plant and machineries & finalizing various contracts
Technical inspection and clearance of plant & machineries from the vendors' premises
Supervision of erection & commissioning
Trial production, trouble shooting and quality control
Our Project Consultancy is exclusively provided as per the requirement of an industrialist or entrepreneur, on this basis of location information of the client. Our strength lies in working out technically rich and comprehensive cost estimation data at an early stage so that most realistic financial aspects - cost estimate, techno-economic feasibility, project viability, profitability and cash flow analysis are available even before the project goes in the implementation stage. Further, as we develop a project report exclusively for any client, the information is kept completely confidential and is not shared with any other entrepreneur / industrial group. To achieve the above objective, we have a panel of highly experienced industry executives covering expertise ranging from corporate planning staff, project execution unit, production and quality control experts, information technology consultants, chartered engineers and chartered accountants, whose career profiles can be seen. Read more...
Contact Us
Mobile : +91-9765785253, +91-9665040852